Don't Miss Meg!
Saturday December 9th at the Blaine Middle School in Blaine Wa. 9-3pm 975 H st Blaine Wa.
Saturday December 16th Ferndale Wa 5638 3rd Ave 9-3pm at the Masonic Lodge attached to Fringe Brewing building!
Our last 2 events for 2023!
Don't miss out on our restocked items! Rompers, l/s rayon tees, leggings and more!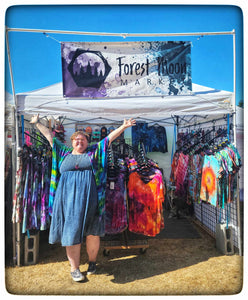 Forest Moon Market
Welcome to Forest Moon Market!
Meg here was born and raised in the great PNW and draws inspiration for her crafts and creations from the beautiful views and places we have here to explore.
During lockdown, Meg discovered icedyeing, and its been off and running ever since. She's always loved tons of color, enjoying the vibrant bits of life and loves that she can share that with everyone through her tie dye pieces.
Meg has just three of her six kids still at home and they are a HUGE help with her small business. Keep an eye out as you'll also see some wicked cool 3D printed items created by her 15 yr old son, Evan.
Thanks so much for checking out our creations and supporting this gals small business. It means the MOON to us!
Hugs from,
Meg and the Forest Moon Crew.
WizardShark Creations By Evan